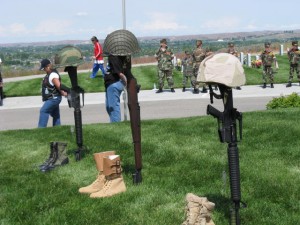 In honor of the Idaho men and women who have died in service to our country, the Idaho Veterans Cemetery will hold a Memorial Day celebration on Monday, May 25 beginning at 10 a.m. The cemetery is located at 10100 N. Horseshoe Bend Road.
The ceremony will feature several speakers including a representative from Sen. Mike Crapo's office; Congressman Walt Minnick; Major General Larry LaFrenz, Commanding General of the Idaho National Guard; Col. James McGovern, Commander of the 366th Operations Group at Mt. Home AFB; and Col. USMC Retired David Brassuel, Administrator of the Idaho Division of Veterans Services.
There also will be music from the the Idaho National Guard 25th Army Band, a wreath laying ceremony, rifle and cannon salute, a military flyover and a ceremonial release of white doves.
Because of limited parking inside the cemetery grounds, attendees are asked to park their vehicles at the Optimist Youth Sports Complex, 9889 Hill Rd., and take a free shuttle to and from the cemetery. The shuttle includes handicap accessibility and is being provided by the Brown Bus Company of Nampa.
For more information call the Idaho State Veterans Cemetery at 208-334-4796.