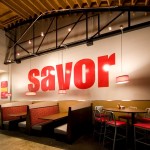 On Saturday, Aug. 29, Smashburger lovers throughout the Treasure Valley can help raise funds for the St. Luke's Children's Hospital by purchasing an Idaho Smashburger or Idaho Smashchicken.
Smashburger is celebrating the grand opening of its first Idaho location at 3223 East Louise Drive in Meridian—just north of St. Luke's Medical Center—by donating $1 to St. Luke's Children's Hospital from each Idaho Smashburger or Idaho Smashchicken sold. And, here's a bonus – anyone ordering these items will also receive a FREE order of Smashfries, tossed in olive oil, rosemary and garlic, courtesy of McCain Foods.
The Idaho Smashburger and Idaho Smashchicken are unique to Idaho and specifically created for the market, which features a one-third or half-pound 100 percent Angus beef—fresh, not frozen—smashed, seared and seasoned on a hot grill, topped with potato chips, cheddar cheese, lettuce, tomato, onion and mayo on an artisan potato bun. The Huckleberry Shake made with Häagen-Dazs ice cream is also an Idaho-exclusive menu item.
"We're pleased to be supporting the St. Luke's Children's Hospital and the Treasure Valley community," said Smashburger Founder Tom Ryan. "We recognize the good work that the hospital does for its patients and families in one of their greatest times of need. We're also proud to partner with McCain Foods for this event."
St. Luke's Children's Hospital is a member of The Children's Miracle Network, which raises funds for more than 170 children's hospitals throughout the world. Donations provide medical care, research and education that save and improve the lives of 17 million children each year. The Children's Miracle Network also ensures that children's hospitals have the resources they need by conducting special events and grassroots fundraisers year-round.
Smashburger's menu provides something for everyone. Patrons can order a variety of delicious Smashchicken, Smashdogs and Smashsalads, with sides like veggie frites and rosemary and garlic-seasoned Smashfries. Burger lovers can also enjoy Häagen-Dazs shakes and root beer floats with their meal.
To learn more, visit www.smashburger.com.